If you're buying or selling a home, a home inspection is part of the process. Here are some common finds on home inspections that we've performed. Just because we found an issue, doesn't mean the seller is required to fix it. Everyone's situation is different so partnering with your Realtor to come up with solutions is advised.
1. Double tapped neutral wires are very common in electrical panels. In the 2002 NEC (National Electric Code), this was spelled out as a no no however it has been a no no longer than that. Neutral wires carry current back to the panel from whatever appliance they are serving. When multiple wires are under the same lug, they can work each other loose as they will be carrying current at different times.
This can cause arcing due to the current wanting to jump over the loose connection to complete the current. This is a fire hazard. Fortunately, fixing this problem is as easy as just separating the wires and putting them under their own lug. Most panels have the space. Of course, working on electrical components is very dangerous and should only be done by electrical professionals.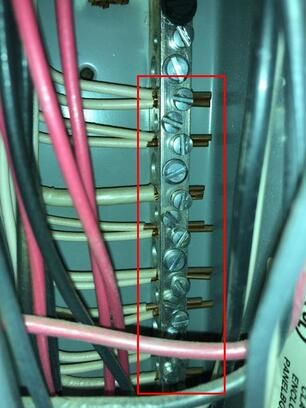 2. Roofing Issues are another common find. Most roofs need some maintenance unless they've been installed recently. Exposed fasteners are common. When there are exposed nails such as the ridges, or at vents/satellite dishes, they tops should be caulked. Sometimes they're not and other times, the caulk has deteriorated due to the hot Texas temperatures. Flashing deficiencies, missing caulk, missing/deteriorated sealants can all cause problems and allow leaks. Performing a little maintenance every now and then can go a long way.
3. Grading around a home should slope away at least 6 inches over the first 10 feet. This helps to promote water movement away from the home vs under it. Improper grading/drainage can lead to water pooling at or under the foundation. In expansive soils this could cause differential movement and foundation problems. Some solutions are gutters with downspouts that extend out at least 5 ft. Swales and french drains are other solutions. If you see pooled water next to your foundation for longer than 24 hours, you may want to consider improving drainage.
4. Attic insulation over time can flatten out which causes it to lose it's R-Value. Additionally, owners may disturb the insulation by going into the attic to store items. Generally speaking, a home should have more than 12 inches of insulation to be considered adequate. Less than that can cause excessive utility cost and decrease owner comfort.
5. General Maintenance not kept up with. Every home needs general maintenance. At the exterior, caulking and paint will dry out or peel over time, making those areas susceptible to water damage via rain. As the home settles, minor separations of the siding may appear. We recommend sealing these areas to prevent water intrusion or pest entry. Keeping up with minor maintenance little by little can save on costly expenses down the road.
6. Plumbing issues show up in a variety of ways. We see leaky pipes and slow/clogged drains all the time. Sometimes it's due to handyman upgrades that didn't turn out so well. Other times, the seals have just worn out. Fixing these problems is usually inexpensive. Fixing the damage that they might have caused is a little more expensive.
7. We run the air conditioning and measure temperature differential. This is the difference in the temperature of the air coming out of the supply registers vs what's going back via the return grilles. A proper temperature is 15-20 Degrees difference from supply to return. Sometimes units just need a minor tune up or new filters to perform better but we find this fairly often on homes.
8. Rust is the dishwasher is found on almost every inspection. After years of use and the constant moving of dishes inside the dishwasher, the coating can come off, exposing the metal underneath. Once exposed, the wet conditions inside can lead to rust. If the dishes in your dishwasher come out with noticeable quantities of rust, you should not eat off of those dishes without rinsing them well first. But the major danger of rust lies in the dishwasher itself. When rust comes off the metal, it may clog dishwasher components and make the unit stop working.
9. The Temperature Pressure Relief Valve at a water heater should drain to within 6 inches of the floor. This drain is only activated when the temperature and pressure inside the water heater reaches unsafe values. A properly functioning TPR valve will eject a powerful jet of hot water from the discharge pipe when fully activated, not a gentle leak. A leaky TPR valve is an indication that it needs to be replaced. In the rare case that the TPR valve does activate, the homeowner should immediately shut off the water and contact a qualified plumber for assistance and repair. Often times the drain is higher than 6 inches above the ground. As the water ejected is very hot and at high pressure, if not terminated very low to the ground, a person standing near could suffer burns.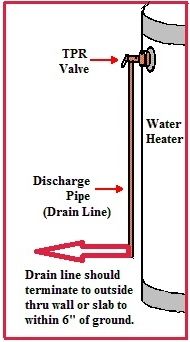 10. Smoke Detectors that are not installed in correct places or are not wired together. Smoke detectors should be in all sleeping rooms, outside of all sleeping rooms, AND on each level. They should be tied together so that if one goes off, all the others will go off as well. Some homes have one in the hallway but not in the rooms or not on each level. Even if the home has one, we recommend changing batteries right away and testing them monthly.